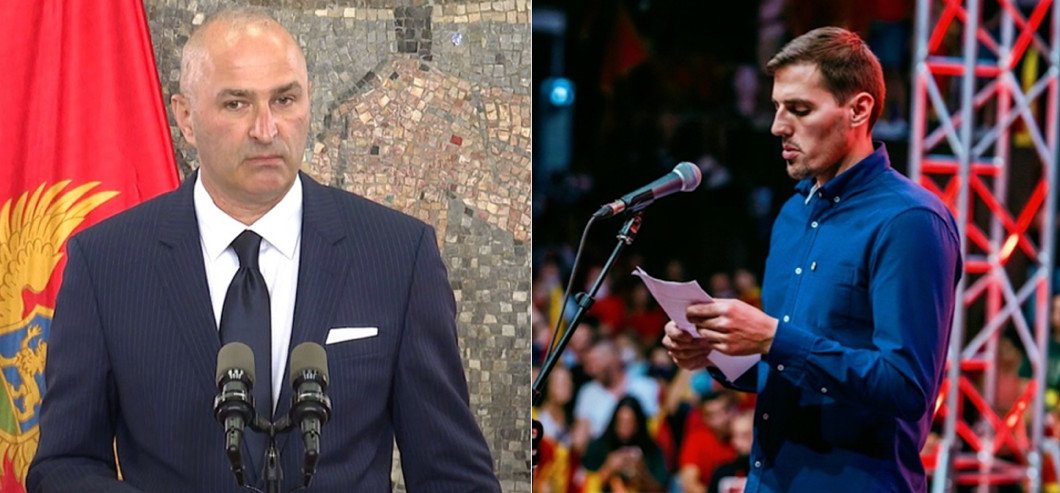 Bogovi se rijetko javljaju, a crnogorski intelektualci još rjeđe. Po načelu kojemu izmiču tek poneki, što im više državnih nagrada i epoleta dodijelite to mudrije i dosljednije ćute. No, tek da toj udobnoj tišini ostaju vjerni, umjesto što povremeno prošetaju između nas podučavajući kako treba s kulturom i identitetom. I opet, po nekom nepisanom pravilu, sve baš treba onako kako oni nijesu radili kad su mogli i trebali.
U tom je maniru i univerzitetski profesor Živko Andrijašević odlučio prekinuti svoj "patriotski celibat" kojemu se predao 30. avgusta 2020. godine. Da je htio, imao je s kime "ratovati" potonjih godinu dana. Ali nije. I nije ni morao, iako je trebao. Ako ni zbog čega drugog, onda zbog sebe. Nije mala stvar kad se prijeti nestankom državi koja vas je nagrađivala i u kojoj ste se profesionalno ostvarili, kako na univerzitetu tako i na važnim funkcijama.
Na kraju, kad se konačno latio "oružja", profesor Andrijašević za svoju metu nije odabrao ni Vesnu Bratić, ni Crkvu Srbije koja krčmi kulturno blago Crne Gore, ni Aleksandra Vučića, ni političke elite u prethodnih 30 godina, već – suvereniste izvan vlasti! Krivi su jer nijesu uradili više i što "smatraju da je to više trebalo da uradi vlast".
I eto ga, sve neznanje i umišljenost s kojom se pristupalo identitetskim i kulturnim politikama od Referenduma do danas, zbijeno u jednu rečenicu – politikama s kojima bi se, sva je prilika, nastavilo čim političke okolnosti ponovo dozvole.
Nacija s greškom
Neriješeno nacionalno pitanje mora imati svoje uzroke, koji su prilično ograničeni. Ili je problem u materijalu od kojeg se nacija "pravi" ili u onima koji tim procesom upravljaju. Kad uvaženi profesor Andrijašević abolira prethodnu vlast od odgovornosti za nedovoljnu umješnost na tome polju, postaje očigledno da najvažnije lekcije nijesu naučene i da možemo očekivati ponavljanje identitetskih politika baziranih na pretencioznoj teoriji o tome da su Crnogorci "nacija s greškom".
Elementarnoj kritici ovog argumenta više bi odgovarala knjiga pozamašnih dimenzija, ali i kratka forma dozvoljava elaboraciju zašto vlast na ovakvim identitetsko-ideološkim osnovama nije mogla uraditi dobar posao.
Prvo, Andrijašević svoju tvrdnju da su Crnogorci "nacija s greškom" bazira na uvjerenju da "sve do pojave ovakvih [nacionalno dualnih, N.B.] Crnogoraca, u istoriji nije bilo slučajeva da jedna nacija ne želi svoju državu". Ta tvrdnja je prosto – netačna. Dualni identiteti nijesu nikakva rijetkost, posebno ne u situacijama kada dva naroda dijele određene kulturne sličnosti i imaju istoriju života u zajedničkoj državi. Tako je, na primjer, dominantna većina Austrijanaca inicijalno odbila Austriju kao zasebnu državu i neskriveno preferirala pridruživanje Vajmarskoj republici. Nezavisnost je u tome slučaju bila volja sila pobjednica, a ne rezultat težnje za samoopredjeljenjem austrijskoga naroda. Polovina Austrijanaca je 1956. godine izrazilo uvjerenje da pripadaju njemačkome narodu. Znači li to da su i Austrijanci "nacija s greškom"? Naravno da ne. U Austriji je taj procent danas sveden na 5-10 odsto, između ostalog, trudom i promišljanjem elita koje u Crnoj Gori Andrijašević oslobađa odgovornosti.
Drugo, metodološki je banalno i krajnje neodgovorno označavanje jedne cijele nacije "greškom", samo zato što je dio te nacije u jednom trenutku odbacio ideju nezavisne države (pritom zanemarujući viševjekovnu uspješnu borbu za tu istu nezavisnost). Ovo nije nikakva nacional-romantičarska kritika, već objektivna stvarnost. Dokazivanje tvrdnje da su Crnogorci "nacija s greškom" predstavljala bi svojevrsnu naučnu revoluciju. Zašto? Jer danas u svijetu postoje desetine hiljada naroda, a manje od 200 država. Crna Gora, iako relativno mala, jeste među tim državama. Ako su Crnogorci "nacija s greškom", šta onda reći za hiljade drugih naroda koji i dalje sanjaju svoju državu? Zar je moguće da ima više "grešnih" nego "bezgrešnih" nacija?
Treće, kad bismo profesora Andrijaševića pitali što je ključna prepreka tome da se Crnogorci počnu u većoj mjeri identifikovati s državom Crnom Gorom, dobili bismo nevjerovatan odgovor – "starocrnogorski atavizam". Po tom shvatanju, "cetinjska nadmenost i arogancija" je do te mjere provocirala ostatak stanovništva da su bili spriječeni da se poistovjete s Crnom Gorom. Auh. Zaista, što reći, osim da ne postoji nijedan relevantni autor ili rukopis na temu crnogorske nacije, na našem ili stranom jeziku, koji taj argument uopšte razmatra a kamoli stavlja na centralno mjesto.
"Otvaranje fronta"
Nema mjesta pitanju zašto je prethodna vlast bila neuspješna u suštinskom rješavanju nacionalnog pitanja, kada vidimo da njen "ideolog" još uvijek smatra da su Crnogorci "nacija s greškom", da propaganda ne može uticati na nacionalnu identifikaciju i da su Cetinjani krivi za negativan odnos dijela Crnogoraca prema sopstvenoj državi.
No, sve smo ovo već znali i odlučili o tome ne pisati. Nije profesor Živko Andrijašević jedini, niti najveći problem. Daleko od toga. Profesor Andrijašević je uvaženi istoričar koji je svojim radom doprinio crnogorskoj istoriografiji, više od većine drugih. Kao istoričar, on i nije u obavezi da poznaje komparativne slučajeve i proučava sociološke teorije nacije i nacionalizma. Ipak, obavezu da bude elementarno informisan sam je sebi namaknuo onoga trenutka kad je odlučio žigosati jednu cijelu naciju, bez ikakve podrške u naučnoj literaturi.
Ni to ne bi bilo vrijedno reakcije da neko ko tako razmišlja o crnogorskom identitetu, a ko je bio u poziciji da nešto na tome planu uradi, nije sebe "oslobodio krivice" na krajnje degutantan način. Tako što će za optuženike uzeti one koji svakodnevno rade u granicama svojih mogućnosti i resursa, one koji u ime odbrane Crne Gore kao građanske države, i crnogorskoga identiteta u njoj, voljno rizikuju svoj lični mir, sigurnost i blagostanje.
Dijelu javnosti koji će ovo reagovanje protumačiti kao "nepotrebno otvaranje fronta" mogu reći da niti je ovo front, niti su ga "pristalice nezavisnosti" izvan vlasti otvorile. Gospodin Andrijašević ima pravo sići sa svoje akademske kupole i, bez doze samokritike, dijeliti lekcije u maniru sveznajućeg pripovjedača. Zaista, njegovo je neotuđivo pravo da krivce traži đe god on želi, iako ih neće naći među onima kojima se nije dalo da budu: prorektori Univerziteta, v.d. direktori Istorijskoga instituta, šefovi katedri za istoriju, savjetnici Predśednika, šefovi upravnoga odbora Fondacije Sveti Petar Cetinjski, članovi desetina komisija i odbora važnih za razvoj i afirmaciju crnogorskoga identiteta.
Do tada, i mi zadržavamo svoje pravo. Pravo da odbijemo slušati lekcije od onih koji biraju da ćute.