Sve njihove Srebrenice
A što ćemo sa Crnom nam Gorom? Ima li ko u njoj zabrinut? U vlasti nema. Vlada i parlamentarna većina davno se stavila na stranu trećeg srpskog vožda i njegovog projekta "srpskoga sveta"
I dok se uzburkana javnost polako stišavala zbog anticrnogorskih i mizoginih izbljuvotina raščinjenog, pa samoproglašenog četničkog vojvode Voje Šešelja na toksičnoj (a tzv. Srećnoj) televiziji Milomira Marića, jedno od njegovih životnih djela, znano kao entitet Republika Srpska, spremalo se da proslavi još jedan svoj neustavni ''Dan Republike Srpske''.
Vaskoliki srpski svijet s nestrpljenjem je čekao presudu njihovoj najvećoj sportskoj zvijezdi i simbolu ''ujedinjenja'' Novaku Đokoviću, koji je, eto, bezgrešan i iznad zakona u ''srpskim zemljama'', gdje može da radi što mu je milo, od neplaćanja poreza, pa nadalje. 
Nole je zato na teži način morao da sazna da, kada mu se iz grla zaori "Bože pravde" i stihovi ''Srpske zemlje, srpski rod'', Australija ipak ne spada u tu vaskolikost. Tamo u Down Under zakon se mora se poštovati, bez obzira ko je ko.
I dok su vaskoliki čekali što će se desiti sa najvećim srpskim sinom nakon Miloša, na Banjalučkom trgu odvijala se demonstracija sile i sijanje straha među ostalim činiocima Bosne i Hercegovine. 
Naravno, metod preuzet od patrona i tovariša Putina, kojemu je već odavno prešlo u naviku da 9. maj, Dan pobjede nad naci-fašističkim hordama, proslavlja tako što digne na noge sve najbolje iz armije i Zapadu, na moskovskom Crvenom trgu, demonstrira s čime raspolaže. Naravno, i s čime može udariti po njima ako za to bude potrebe.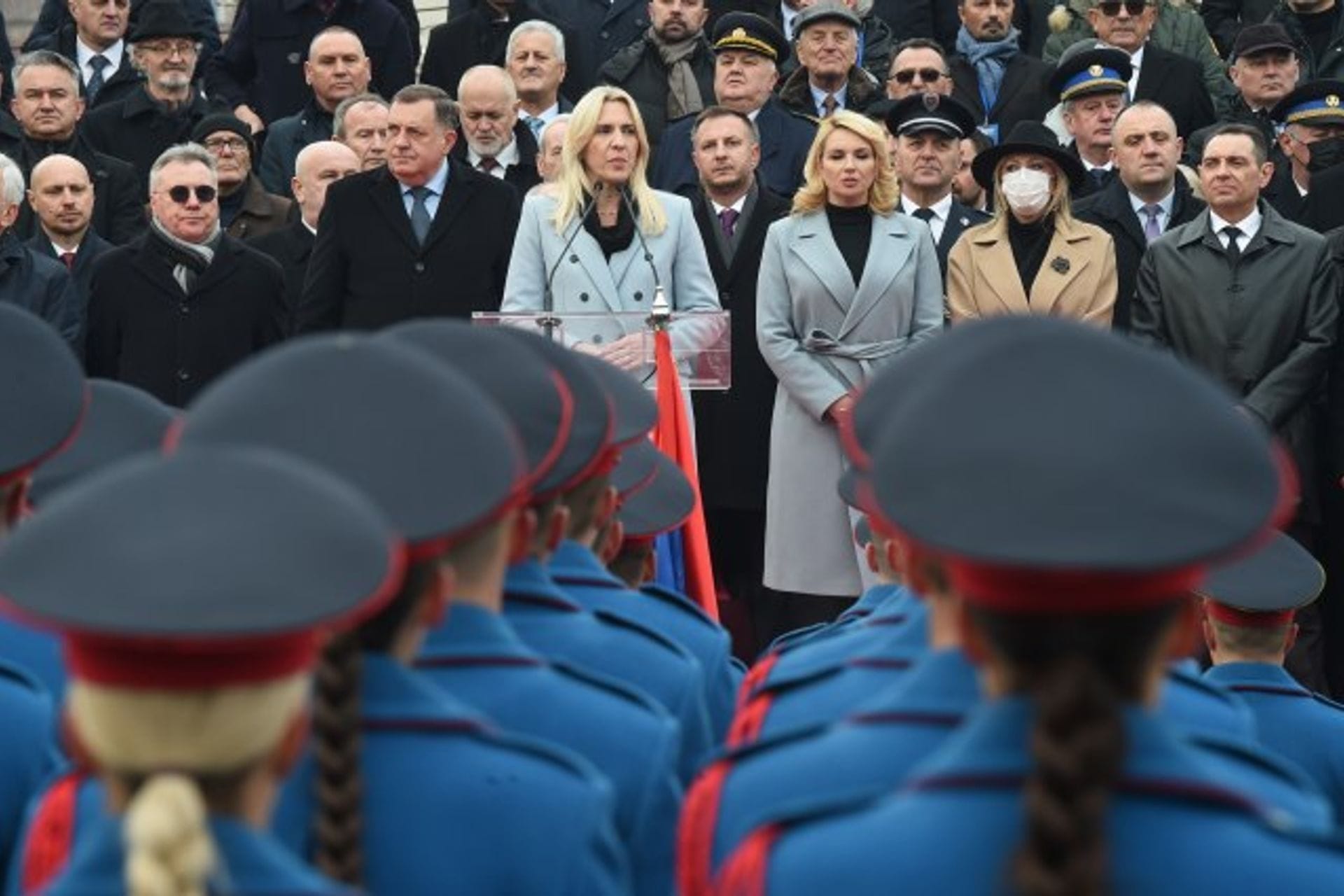 Prije Dodika, paradnu smotru vojske i oružja priredio je Vučić, takođe, da na sličan način demonstrira s čime može raspaliti po okruženju. Samo, on za to ima manje hrabrosti od njegovog patrona. Vjerovatno s ciljem da se eto barem malo zabrinu Zagreb i Tirana. Da makar preznoje neku noć i dobro razmisle.
Naravno, neustavna proslava nekakvog datuma, onog što krši međunarodne konvencije (nažalost postoji RS kao relikt velikosrpskih snova), okupila je krem srpskoga svijeta. 
I sve moguće popove uz dobro isprobanu koreografiju proisteklu iz ''veličanstvenih'' litija i najveću srpsku zastavu na svijetu. Kuči će sigurno biti ljuti jer im je preuzet ovaj ''svesrpski'' rekord što se dužine barjaka tiče.
Kao što Putin pravi paradu da bi se u Kijevu zabrinuli i pomno čekali kad će ruski diktator udariti put ovog drevnoga grada, kako bi ''prevaspitali'' neposlušne Ukrajince, a nakon njih i ostale (sve u cilju obnove Ruskoga carstva), tako i Mile Dodik zveči oklopnim vozilima na kojima su iscrtane ikone pravoslavnih svetaca. 
I reži na Bošnjake da im slučajno ne padne na pamet da se bune kada krene u secesiju i rušenje Dejtona, a preko toga i obnovu onog drugog carstva, Dušanovog.
Za razliku od Ukrajinaca koji spremno čekaju, čini mi se da Bošnjaci ipak nijesu toliko spremni. A ako stvarno nijesu, onda je posljednji vakat da to postanu. Bošnjacima je dosta jedna Srebrenica, a ovima te i prvu počiniše je i deset malo. 
Zbog toga svako malo pozivaju na nove Srebrenice, širenje granica i negiraju okolne narode i države. Nije spreman ni Zapad. Prividno i verbalno reaguju na ratno huškačke ispade jednog primitivca iz Laktaša i uvode mu nekakve sankcije koje će ga pogoditi taman koliko i međeda iz one narodne izreke kad sleti muva na njega. Sve ovo će njegovim podržavaocima samo ulivati dodatne nalete morala i adrenalina.
A što ćemo sa Crnom nam Gorom? Ima li ko u njoj zabrinut? U vlasti svakako nema. 
Vlada i parlamentarna većina davno se stavila na stranu trećeg srpskog vožda i njegovog projekta "srpskoga sveta". Jednostavno, valjda ne može tako nešto da prođe bez srpskih ''spartanaca''.
Jedina prijetnja su ''montenegrini'' i ''belvederci'', kako reče onaj naš vojvoda, ali ne od Hrtkovaca i Popovoga polja kao Voja, nego od Kristala i koljenice.
E, vidiš, vojvodo, ta ti je prava! 
Stvarno, đe bi vam kraj bio da nas nema… Ali, na vašu žalost, a našu radost - ima nas dosta! I više no što treba. Više no što treba da taj "srpski svet" ostane samo nedosanjani san još jedne generacije četnika. Makar što se tiče Crne Gore.
A nadam se i što se tiče Bosne, jer nema Crne Gore bez Bosne. Čak su i krvlju vezane. Koliko li se samo crnogorske krvi prolilo po tim bosanskim gudurama i klancima, po Sutjesci, Neretvi, Igmanu, Prozoru... Prolilo u borbi protiv ustaša, četnika, naci-fašista. To je ono što spaja nas.
A, vi, samo nastavite da sanjate Srebrenice, Vukovare, Karlovce i Karlobage. 
Ali, jedno znajte - kad vam san bude najslađi, vazda će se naći neki belvederac, montenegrin, poturica ili kengur iz sna da vas probudi…